Though I would hardly consider "The Accidental Husband" her best work, Uma Thurman made the most of the shallow story and cliched character. Uma plays the roles SHE wants, no matter their seeming unimportance, and she does so flawlessly. The majority of my acclamations for her talent goes to the Kill Bills and "Pulp Fiction," but I want to give a shout out to "Robin Hood," "The Adventures of Baron Munchausen," "The Truth About Cats and Dogs," and "Les Miserables."
Scarlett Johansson is a voluptuous up and coming actress with an already incredible resume. Something about her performance in "Lost in Translation" captivated, to me she is relatable... real. Check out "Vicky Christina Barcelona," "The Prestige," "Girl with a Pearl Earring," and this summer's "Iron Man 2."
I'd seen "Smokin' Aces" and parts of "Hustle and Flow" (it's on my list), but Taraji P. Henson screamed her talent in "The Curious Case of Benjamin Button." If you haven't seen that film, DO IT.
"Sense and Sensibility," "Love Actually," "Much Ado About Nothing," "Stranger Than Fiction"-- excellent reasons why I love Emma Thompson. Her colorful career is full of epic dramas, smart comedies, and fun children's films.
The ever beautiful Julie Andrews is absolutely timeless and classy, from "Mary Poppins" to "The Sound of Music." However, my two favorites of hers are "Victor, Victoria" and "Thoroughly Modern Millie!"
Cate Blanchett. Amazing, poised, elegant, and classically beautiful. Although I'm a huge fan of "Lord of the Rings," I highly recommend her in "The Aviator," "Elizabeth," "The Curious Case of Benjamin Button," "The Life Aquatic," even "Indiana Jones and the Kingdom of the Crystal Skull" was tolerable with her in it. Next up: her role as Maid Marian in "Robin Hood"-- one of my favorite stories EVER.
How can you not love "The Princess Diaries" and "The Devil Wears Prada?" Anne Hathaway is the perfect example of the person an adolescent star should become as an adult-- fashionable, sane, and always growing in her craft. My personal favorites are "Nicholas Nickleby," "Rachel Getting Married," "Becoming Jane," and "Hoodwinked"-- one of the funniest animated cartoons out there. Skip "Ella Enchanted." It's not worth it.
Two things: I realize this is an old picture, and I know that she's first and foremost a singer. However, if you've been fortunate enough to see Cher act on the big screen, you will realize she is awesome. "Moonstruck" is by far one of my favorite films, plus I've seen "Mermaids," "The Witches of Eastwick," and "Tea with Mussolini"-- she is excellent in all of them.
How could I NOT pick Meryl?! Although my coworker hates her, I believe Meryl Streep is one of the greats-- full of talent and NATURAL (if slightly different) beauty with a great sense of humor and grounded humility. Plus, she hasn't succumbed to the pressures of Hollywood and continues being true to herself. Here are just a few favorites: The Devil Wears Prada, Julie and Julia, Lemony Snicket's A Series of Unfortunate Events, and Adaptation.
Ah, the ever fashionable and totally glamorous Emily Blunt. Though she's definitely a chameleon when it comes to acting, Emily gives off that retro, 1960's Faye Dunaway in "Bonnie and Clyde" sexiness. Despite her wasted talent in "Wolfman" this year, she shines in memorable roles from "The Devil Wears Prada" and "Sunshine Cleaners," to small parts in "Dan in Real Life," "The Jane Austen Book Club," and "Poirot: Death on the Nile." Plus, she's engaged to John Krasinski from "The Office," who, oddly enough, dated my next pick on an episode of the show.
Something about Amy Adams exemplifies Old Hollywood and those wonderful bombshells with innocent eyes and a killer wit. I have never seen an Amy Adams film I didn't like, plus I love her talent and humility! "Enchanted" is enchanting, "Night at the Museum 2" is a ball of fun, "Sunshine Cleaners" is one of the richer films of her career so far and she's with my earlier favorite, Emily Blunt. And let's not forget Amy and Meryl together in "Julie and Julia!" But my absolute favorite: "Miss Pettigrew Lives For A Day." Watch it. Now.
Brenda Blethlyn. One of the more underrated of the British crew (at least in America), she's incredible, lovely, and surprisingly risque in many of her films. I first became a fan when I saw "Saving Grace," a film about a widow who begins growing marijuana to help payoff her dead husband's debts. Yup, it's as funny as it sounds! Not to mention she has the best interpretation of Mrs. Bennett from "Pride and Prejudice."
Dame Judi Dench. As you will see, I love the Brits and Aussies, and Dame Judy is no exception. Have you ever seen the BBC series "As Time Goes By?!" No? Epic fail. Plus all of the Bonds, "Shakespeare in Love," Masterpiece Theater's Cranford series, "Mrs. Henderson Presents," "Pride and Prejudice" (my ALL TIME FAVORITE BOOK AND FILM!!!), and so much more! What a dame.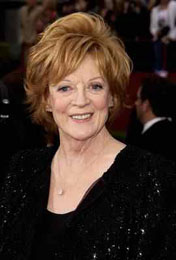 Dame Maggie Smith. An absolutely gorgeous English lady with talent oozing out from her ears! If you see any of her early work, say... "Murder By Death," count yourself fortunate. However, she continues to shine in "Harry Potter" (GEEKING OUT!), "David Copperfield," "Becoming Jane" (again!), "Gosford Park," the Sister Acts, "The First Wives Club," "The Secret Garden," "Hook..." the list goes on and on!
Kate Winslet. I first encountered her in "Sense and Sensibility" and not only fell in love with the film, but Kate as well. Check out "Heavenly Creatures," "Hamlet," "Flushed Away," and "Finding Neverland." But the best film to see her in: "Eternal Sunshine of the Spotless Mind."